Chikly Fort
The Chikly Island is located in the northern part of Lake of Tunis which, otherwise known as Fort Santiago Chikly, a former Roman citadel which was reconstructed by the Spanish Governor of Goletta, Luys Peres Varga, between 1546 and 1501. Covering an area of 1.5 hectares, it had ruins of a destroyed palace. Around the year 940 AH (1533 AD), the Spanish built an invincible fortress that was later taken over by the Ottoman military, though it was destroyed in the same year upon the arrival of the Ottomans led by Sinan Pasha and Ali Uluc, following the defeat of the Spanish leader Juan de Zama Quera in a battle that saw the surrender of 50 soldiers because of hunger. During the Spanish occupation, the island was called Chikly Santiago. It was abandoned and destroyed before it was renovated by El-Hajj Mustafa Dey in 1070 AH / 1659 AD. It was used by some of the Beys as a prison. In 1922, this island was listed among the historical sites. 
It was restored in 1660 by Dey of Tunisia 'El-Haj Mustafa Laz' (1653-1665) and transformed into a hospital of contagious diseases during the reign of Hammuda Pasha. In 1830 the fort was abandoned completely altogether. 
Carrying on with the logic of detachment from people, separation from life and fortification against attacks, a characteristic of the philosophy of old prisons in the early 20th century, the Chikly Island was used as the 'health room', or quarantine area for ships returning from the Far East through the Suez Canal, just as the ports of Ghar al-Milh and La Goulette had been used since the 17th century.
The island was declared a site of National Cultural Heritage in December 1993 thanks to the Tunisian Ministry of Culture. The fort is now being restored as part of a Tunisian-Spanish cooperation agreement between teams from the National Institute of Heritage and the Madrid University. Works of purging and cleaning in 1994 were followed by archaeological in 1995. Mosaic paintings dating back to the Byzantine and Roman periods (4th and 5th centuries) were uncovered.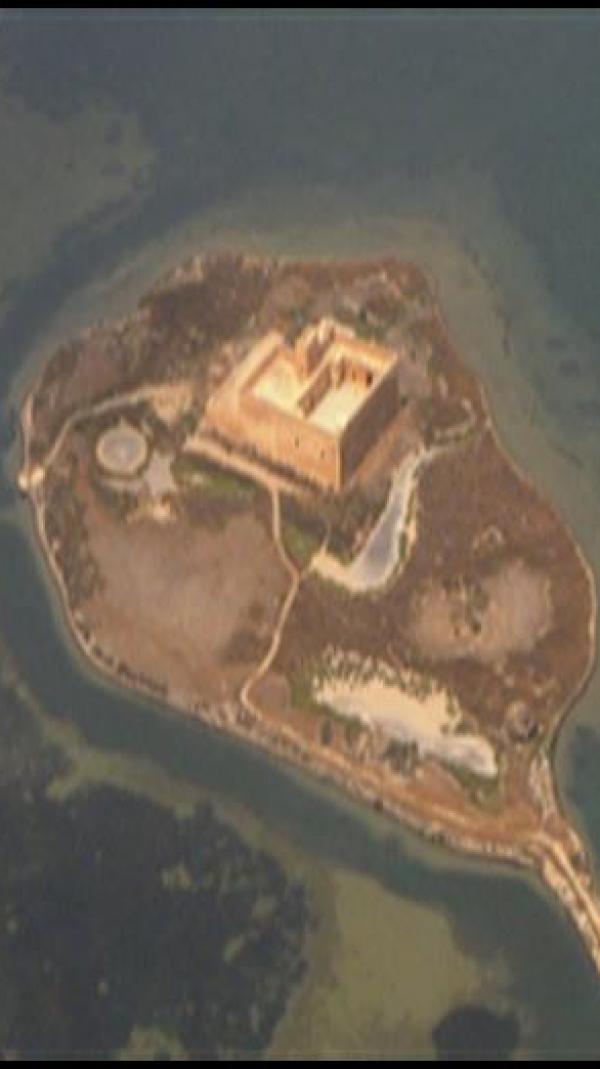 Images